Welcome to the "18 for 4 foundation" 18for4.com
a social network for the social network of golf
This is the official relaunch
September 4th 2017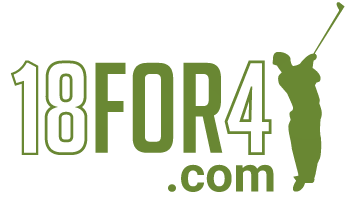 Become a member and help create a social media platform for the golfer
Connect with other golfers
Connect with Charity Golf Tournaments in your area
Create groups and a social media platform for your home course or team
Create your own personal blog and history of your game and the courses you play across the USA (2018 will be global)
Go play golf, and share it with others who play golf
In 2012, we were posed with the question of why charity golf tournaments in our area were so hard to find. We would only find out about them after they had happened from friends. Most commonly they would say "You should have played." or "They needed more players." These were always events for great local causes that if we knew about the tournament, we would have been there to support, and play golf.
We put together a plan, and 18for4.com is the result.
In 2016 we formed the "18 for 4 foundation", we are a 501c3 non profit site providing ALLcharity golf tournaments a free place to post their events so they can be easily be found by golfers in their local areas. You can't play in a tournament if you don't know it is happening. Getting 72 to 144 people out on a golf course at the same time is a very difficult job, and we hope this will help tournament organizers reach more golfers.
As a golfer sets up a free membership profile, they will be asked to set a radius from their home location. A golfer will see "ALL" charity golf tournaments posted to site in that area. We hope this will make sure that "ANY AND ALL GOLFERS" who might be interested in playing in a charity tournament, know about that tournament.
Yes, We are providing this service for free to all golfers and all charity golf tournaments.This is an informational site. No one posting a charity golf tournament or using site will ever be contacted by the 18 for 4 foundation asking for payment for site usage. We will take unsolicited donations from golfers who would like to see us improve and grow what we are doing, but again, we will not require or bill you for services. Please report to 18for4.com any such requests.
While creating this newest version of site, we have programmed it into a social network frame. Why not. Golf is a social network, it should have a social network where golfers of any level can participate, and be social.
The network we have created is about golf. The people you played with, the courses you played, and the charity golf tournaments you played in. In a golfers clubhouse, post up the rounds and golf courses you have played and keep up on your friend's rounds. Post up these stories to a golf course's page so other golfers know what to expect at that golf course. Post up your photos and stories of the people and golf courses at the charity golf tournaments you have played in. Review golf courses you have played, and comment on your friends reviews. Tell a joke, take a pic of that awesome shot or the guy you are playing with who just 6 putted.
This is a growing part of what 18for4 is doing. We are not done programming and improving site, we are under the belief that this will be a growing process that will take many years as we learn what golfers, golf courses, and charity golf tournament organizers would like to see us do and how site is being used. We are hoping to keep 75% of the people using site to be 75% happy 75% of the time. Better than how I play golf, but a start.
We at the "18 for 4 foundation" look forward to growing with the golfing community, see more players at every charity golf tournament, and look forward to seeing your stories/ photos you share while out on the course playing golf and supporting charity golf tournaments.
Mobile device usage- The site does not have a per say "APP", but is mobile friendly and can be used from your phone or tablet. For ease of use, bookmark 18for4.com in your mobile device and use site from anywhere with quick access.
Web Site Terms and Conditions of Use
1. Terms
By accessing this web site, you are agreeing to be bound by these web site Terms and Conditions of Use, all applicable laws and regulations, and agree that you are responsible for compliance with any applicable local laws. If you do not agree with any of these terms, you are prohibited from using or accessing this site. The materials contained in this web site are protected by applicable copyright and trade mark law.
2. Use License
Permission is granted to temporarily download one copy of the materials (information or software) on 18for4 Inc.'s web site for personal, non-commercial transitory viewing only. This is the grant of a license, not a transfer of title, and under this license you may not:

modify or copy the materials;

use the materials for any commercial purpose, or for any public display (commercial or non-commercial);

attempt to decompile or reverse engineer any software contained on 18for4 Inc.'s web site;

remove any copyright or other proprietary notations from the materials; or

transfer the materials to another person or "mirror" the materials on any other server.

This license shall automatically terminate if you violate any of these restrictions and may be terminated by 18for4 Inc. at any time. Upon terminating your viewing of these materials or upon the termination of this license, you must destroy any downloaded materials in your possession whether in electronic or printed format.
3. Disclaimer
The materials on 18for4 Inc.'s web site are provided "as is". 18for4 Inc. makes no warranties, expressed or implied, and hereby disclaims and negates all other warranties, including without limitation, implied warranties or conditions of merchantability, fitness for a particular purpose, or non-infringement of intellectual property or other violation of rights. Further, 18for4 Inc. does not warrant or make any representations concerning the accuracy, likely results, or reliability of the use of the materials on its Internet web site or otherwise relating to such materials or on any sites linked to this site.
4. Limitations
In no event shall 18for4 Inc. or its suppliers be liable for any damages (including, without limitation, damages for loss of data or profit, or due to business interruption,) arising out of the use or inability to use the materials on 18for4 Inc.'s Internet site, even if 18for4 Inc. or a 18for4 Inc. authorized representative has been notified orally or in writing of the possibility of such damage. Because some jurisdictions do not allow limitations on implied warranties, or limitations of liability for consequential or incidental damages, these limitations may not apply to you.
5. Revisions and Errata
The materials appearing on 18for4 Inc.'s web site could include technical, typographical, or photographic errors. 18for4 Inc. does not warrant that any of the materials on its web site are accurate, complete, or current. 18for4 Inc. may make changes to the materials contained on its web site at any time without notice. 18for4 Inc. does not, however, make any commitment to update the materials.
6. Links
18for4 Inc. has not reviewed all of the sites linked to its Internet web site and is not responsible for the contents of any such linked site. The inclusion of any link does not imply endorsement by 18for4 Inc. of the site. Use of any such linked web site is at the user's own risk.
7. Site Terms of Use Modifications
18for4 Inc. may revise these terms of use for its web site at any time without notice. By using this web site you are agreeing to be bound by the then current version of these Terms and Conditions of Use.
8. Governing Law
Any claim relating to 18for4 Inc.'s web site shall be governed by the laws of the State of California without regard to its conflict of law provisions.
General Terms and Conditions applicable to Use of a Web Site.
Privacy Policy
Your privacy is very important to us. Accordingly, we have developed this Policy in order for you to understand how we collect, use, communicate and disclose and make use of personal information. The following outlines our privacy policy.
Before or at the time of collecting personal information, we will identify the purposes for which information is being collected.

We will collect and use of personal information solely with the objective of fulfilling those purposes specified by us and for other compatible purposes, unless we obtain the consent of the individual concerned or as required by law.

We will only retain personal information as long as necessary for the fulfillment of those purposes.

We will collect personal information by lawful and fair means and, where appropriate, with the knowledge or consent of the individual concerned.

Personal data should be relevant to the purposes for which it is to be used, and, to the extent necessary for those purposes, should be accurate, complete, and up-to-date.

We will protect personal information by reasonable security safeguards against loss or theft, as well as unauthorized access, disclosure, copying, use or modification.

We will make readily available to customers information about our policies and practices relating to the management of personal information.
We are committed to conducting our business in accordance with these principles in order to ensure that the confidentiality of personal information is protected and maintained.